It's been said that a home's "curb appeal" has a major impact on the value of a property. Before guests or potential buyers ever step foot in your home, their first impression is based on what is immediately visible from the driveway: the siding, the roof, the landscaping, and, of course, the garage doors.
Garage doors command attention. From the moment your guests pull into your driveway, your garage doors are often the first thing they notice. Naturally, then, most homeowners want their garage doors to be a showpiece of their property. From the height and panel design to the style and functionality, homeowners are meticulous about every aspect of their garage doors.
Is your garage door starting to age? Maybe your garage door is an eyesore, in a state of disrepair, and in need of a facelift. If so, you might need to replace your garage doors with something new and inviting.
When you replace your old, worn out garage doors with a pair of custom garage doors or contemporary garage doors, you breathe new life into your property. Instantly, a fresh pair of modern garage doors can raise your property value, provide you with a confidence boost, and bolster the "curb appeal" of your home.
Want to find the right garage doors for your Calgary home? The experts at C Town Doors, Calgary leader in garage door sales and installation, put together this hands-on guide to help you choose the perfect garage doors for your home. From weatherproofing to picking between steel or wood, read on to discover everything you need to know about purchasing garage doors.
Table Of Contents
Choosing the Right Style for your Garage Door
Nobody wants an ugly pair of garage doors. While functionality and security are usually the first considerations most garage door buyers have in mind, style and aesthetics always follow right behind. After all, garage doors are the centerpiece of any home's exterior. It means sense that you would want them to look inviting, elegant, and stylish.
Carriage House Garage Doors
These days, carriage house doors are one of the most popular styles among modern garage doors. Carriage house doors, once popular in the 1940s and 1950s, have surged in popularity in the recent years. For most homes, they offer an elegant aesthetic that is timeless and reminiscent of an older architectural style.
Available in both steel and wood, carriage house garage doors open up and down like traditional garage doors, although they appear as though they open like double interior doors. In most cases, they feature faux handles on the outside and are equipped with a row of glass windows at the top. We find that carriage house doors offer charm and sophistication to a home.
Get a free Estimate from leading Calgary garage doors service Provider  @ 403-668-6686
Contemporary Garage Doors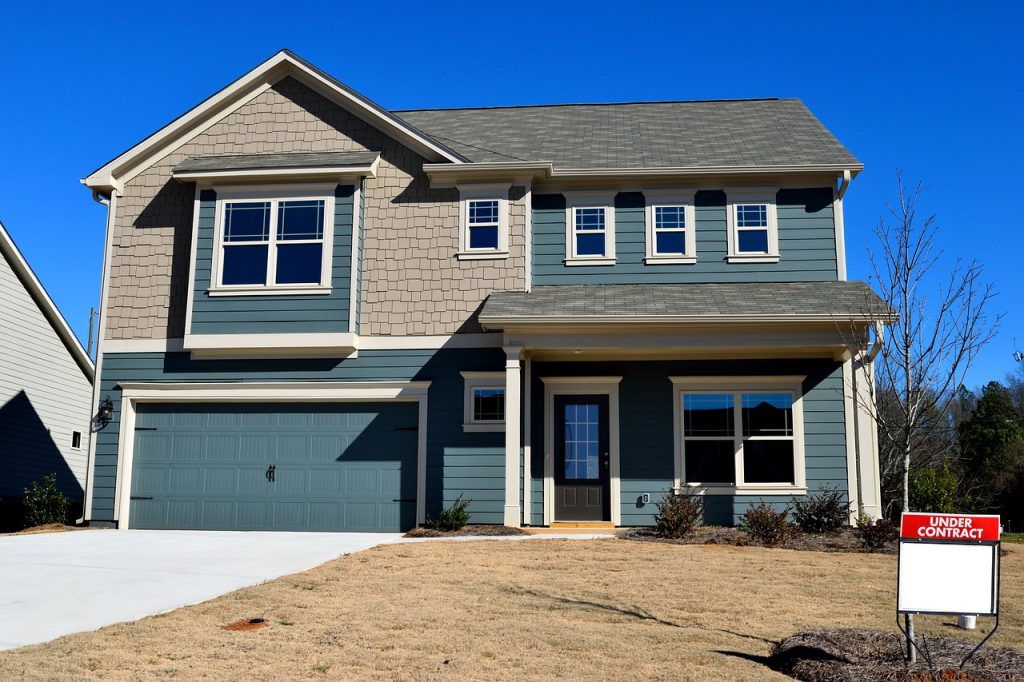 Contemporary garage doors are unlike the garage doors of the past. These doors feature clean lines and a minimalist aesthetic. In other words, they value function over form. Contemporary garage doors rose in popularity in the 1980s when most homeowners became fed up with the high maintenance costs associated with wood or artisanal garage doors.
Unlike most other styles, contemporary garage doors can be made of a wide variety of materials, from aluminum and glass, to wood or steel. These garage doors typically feature a plain, no-nonsense pattern on the exterior and a nondescript interior. Occasionally, small windows will allow natural light to brighten the inside of the garage.
To get a Quick Estimate call  @ 403-668-6686
Traditional Garage Doors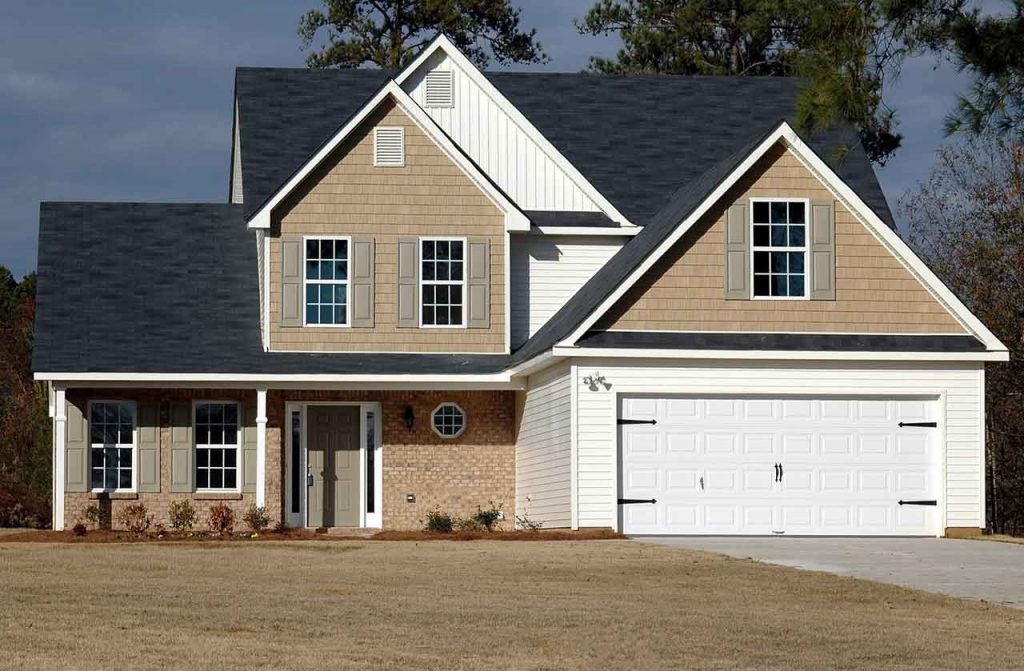 Whereas contemporary garage doors are sometimes available in aluminum and glass, traditional garage doors are predominantly made of wood and, to a lesser extent, steel. These are the classic, old-school garage doors that your grandparents probably once owned. They raise up and down, and feature a plain, repetitive pattern throughout.
What sets traditional garage doors apart from modern garage doors is the fact that traditional doors emphasize strength and durability over aesthetics. These doors are notable for their long, ribbed panels and low-maintenance design. With traditional garage doors, your garage will stand out with a look that is timeless, familiar, and bold.
Get a Free Estimate for Traditional Garage Doors Installation  @ 403-668-6686
Farmhouse Garage Doors
Farmhouse style garage doors have been a staple of American architecture for years. Farmhouse garage doors are notable for their lack of windows and monochromatic design. When made of wood, they are traditionally painted all-white. However, in recent years, glass farmhouse garage doors have risen in popularity.
Farmhouse garage doors have a rustic, bucolic appearance that resonates warmth and comfort. They are generally painted in one neutral color and have cedar wood shingles. Most homeowners recognize farmhouse garage doors by their distinctive "X" shaped center pattern that gives off the impression of a barnyard entrance.
Choosing the Right Material for Garage Doors
Although steel is the most common garage door material today, there are four standard materials that are used in the construction of garage doors. Each of the four commonly found garage door varieties have their own unique benefits and drawbacks. Let's run through each of them and discuss the importance of finding the right material for your custom garage doors.
Natural Wood Garage Doors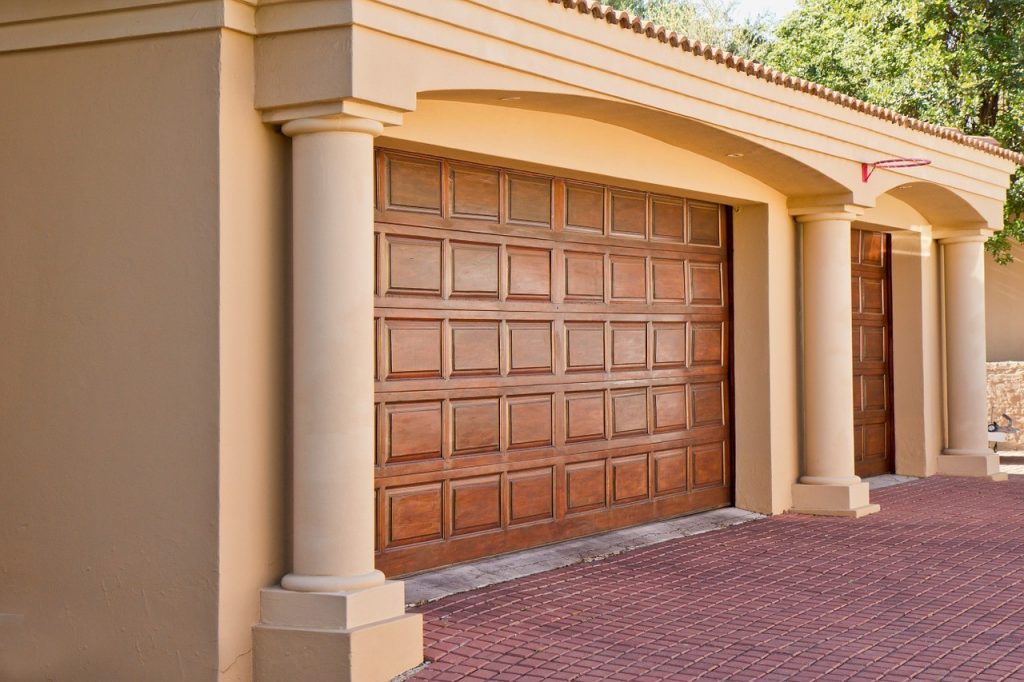 Historically, wood has been the material of choice for garage doors. It wasn't until the 1980s when the appeal of low-maintenance steel and aluminum-based garage doors started taking hold. Wood garage doors are generally constructed with cedar, redwood, or oak wood, and are heavy, durable, and charming when stylized properly.
Wood is still popular among modern garage doors, yet they have fallen out of fashion to some due to their relatively high maintenance costs. For example, natural wood garage doors require consistent repainting every two to three years, depending on its exposure to inclement weather. Also, they are notoriously heavy to lift, which renders them impractical for some owners.
On the bright side, natural wood garage doors provide stellar heat insulation compared to most other garage door varieties. Also, these garage doors tend to be more sought after by luxury homeowners due to their rustic charm and artisan quality. Since most wood garage doors are handcrafted, there is a certain prestige that comes with owning them.
Steel Garage Doors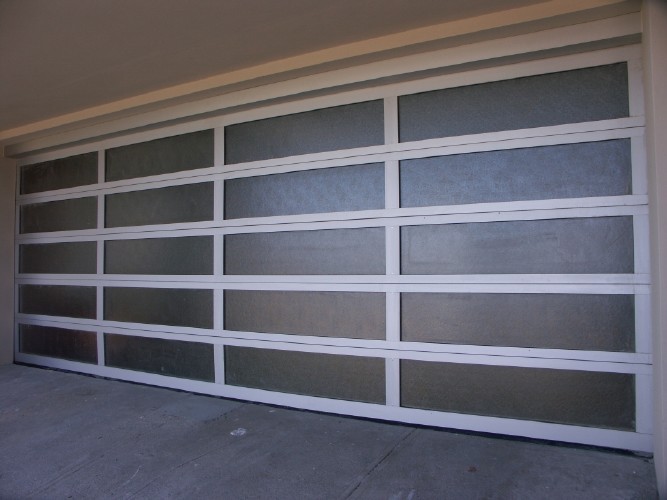 Unlike wood garage doors, steel garage doors are mass produced and factory-finished. Steel garage doors tend to rank among of the most affordable garage doors Calgary has to offer, and they also provide the most flexibility in terms of customization. With steel garage doors, homeowners have the ability to get creative and choose from countless personalized designs.
Steel garage doors suffer from a lack of insulation. While insulation material can be installed as an aftermarket upgrade, most steel garage doors are purchased without added insulation. Not only does this cost homeowners money due to heating inefficiencies, but it can also cause loud drafts to seep in underneath the door.
There are also several key advantages of steel garage doors. Since steel garage doors are modular in their design, they can be upgraded to feature several important upgrades. For example, steel doors can be reinforced with wind guards to protect against high-wind environments. Likewise, multi-layer insulation can also be added.
Get a Free Estimate for your Garage Door  @ 403-668-6686
Aluminum and Glass Garage Doors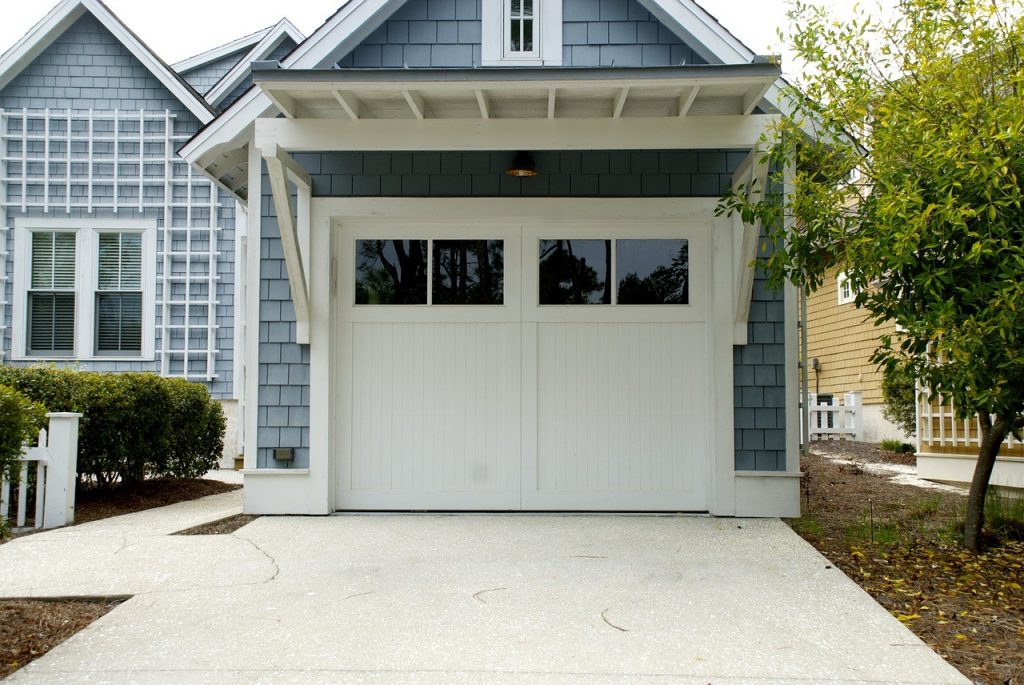 Aluminum and glass designs have become increasingly popular among modern garage doors. This is because their translucency allows for lots of natural light to seep through and enter the garage. If you spend lots of time in your garage, this can make the environment seem more inviting and pleasant to be in.
While aluminum and glass contemporary garage doors are sleek and modern-looking, they suffer from a lack of weight and sturdiness. By far, these garage doors are the most vulnerable to damage and denting during rough weather. Nonetheless, glass and aluminum garage doors are often reinforced with rust-proofing and reinforced metal to render it more durable.
Aluminum and glass garage doors are a good choice for homes that are looking to take on a chic, modern appearance. We often install glass and aluminum garage doors in older homes that are undergoing major exterior renovations or preparing for listing on the real estate market.
We are #1 Modern Garage Doors Service Provider in Calgary Get a Free Estimate Today  @ 403-668-6686
Composite Garage Doors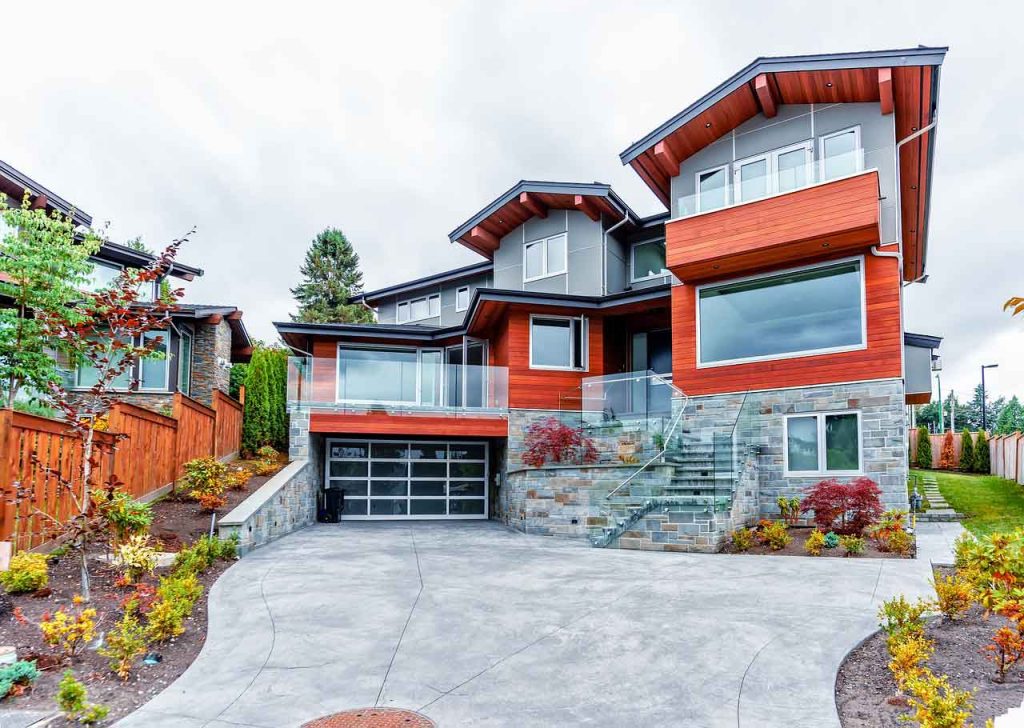 Lastly, composite garage doors are made of a unique blend of metals. In nearly all cases, steel is one of the primary metals found in composite garage doors. Since they are made of metal alloy, these garage doors tend to sell at a cheaper price point than most other builds. However, they suffer from the same durability defects as steel garage doors if they are not reinforced.
We recommend installing composite garage doors if you want a budget-friendly solution for your garage. Generally, custom garage doors made of composite material are nondescript, monochromatic, and do not draw much attention. While they may not boost your property's "curb appeal", they certainly can offer a lot of value for your dollar.
Getting the Right Measurements
When it comes to finding the right custom garage doors for your home, you need to get your measurements right. Even the smallest miscalculation or measurement error can cause major headaches later down the road and can incur serious costs in garage door repairs and adjustments.
While we recommend hiring a professional garage door specialist to take your property's measurements, you can always measure your door size yourself. Once you have your measurements taken, can take them to your local garage door installer or retail to find the ideal garage door for you.
Height and Width
First, you need to find your garage door's height and width specifications. For this, you need to take note of the "rough opening", which is the height and width (in inches or meters) of the framed opening of your garage minus the stop molding around the perimeter. In virtually all cases, the rough opening will equal the size of your garage doors.
Side Room (Left and Right)
Next, you need to measure the side room of your garage opening. Side room refers to the distance required on both sides of the door to accommodate the vertical track assembly attachment. Without these measurements, you won't be able to install the lifting mechanism for your custom garage doors.
Generally, 3-3.75 inches are required on each side of the door to allow for a standard extension spring or torsion spring system. Alternatively, 4-4.5 inches are needed for a torsion spring system above the opening for the torsion spring attachment.
Headroom
Headroom refers to the space above the door required for the lifted door, overhead tracks, and springs. Within this space, there should be no obstructions blocking the tracks or door path. For an extension spring system, ensure a minimum of 10 inches of space from the top of the door opening to the ceiling. For a torsion spring system, ensure a minimum of 12 inches.
Backroom
Last, take note of your available backroom. Backroom refers to the space between the garage door opening and the rear wall of the garage itself. At minimum, you should have a distance equal to the height of the door plus an additional one and a half feet.
Choosing Your Door: Step-by-Step
Now that you know the basics about garage door designs, styles, and builds, it's time to decide which garage door is right for you. If you can't decide, we recommend asking your local garage door retailer or contact our team at C Town Doors if you live in the Calgary area. To help walk you through the process, we put together this quick guide for you to follow.
What Size Do I Need?
When purchasing a new set of custom garage doors, your first consideration is sizing. In most cases, a single car garage door will measure 8-9 feet in width and 7-8 feet in height. By contrast, double-wide garages will typically measure 16 feet wide and 7-8 feet tall. If your garage is a non-standard size, simply inquire with your local installer or retailer about sizing for custom garage doors.
What's My Budget?
Like any major purchase, your budget needs to be a top consideration. A lot goes into the cost of modern garage doors, including the material type, insulation level, sizing, design, and hardware involved. When drawing up a garage door budget, you need to consider how much you value aesthetics, insulation, and durability.
If you want a garage door at the lowest price point possible, without installation, you will likely purchase a single car composite-made garage door without insulation. If your garage door will be rarely used, or if you live in a mild temperature environment, this may be the most appropriate option for you.
Homeowners looking to add value to their homes and bolster their curb appeal should invest in carriage house or contemporary garage doors featuring a raised panel design. For a time-honored appearance, wood garage doors are the material of choice. However, you can expect to pay several times more than you would for a basic composite single-car door.
What Style Should I Choose?
Ultimately, the style of your garage door will be a matter of your personal taste. For many homeowners, choosing the right style is the most difficult aspect of the garage door purchase. If necessary, your local garage door retailer can help you decide on a style that best suits the aesthetic of your home.
In our experience, many older homes built in the first half of the 20th century and earlier tend to opt for carriage house or farmhouse style garage doors made of wood. Newer homes generally suit modern garage doors in the "contemporary" style which feature full view doors and glass elements.
What Material Should I Choose?
Your garage door material will be a product of your budget, style preference, and living environment. If inclement weather is a concern, you may be interested in steel garage doors. However, if a rustic style is your primary consideration, you may want to opt for natural wood doors. Artisan wood doors are often the best choice for boosting property value.
Should I Choose an Insulated Door?
Last, you need to choose whether you should purchase a garage door with insulation. Most garage doors Calgary has to offer come with insulation, due to the cold-weather climate. If energy efficiency is a major concern of yours, you will likely want to invest in insulated garage doors with a high R-value.
Get a Free Estimate for your Insulated Garage Doors Calgary call  @ 403-668-6686
Ready to Upgrade Your Garage Doors?
At C Town Doors, we specialize in providing the best garage doors Calgary has to offer. For years, C Town Doors has helped Calgary homeowners and those in the Greater Calgary Area (GTA) find their dream set of garage doors.
If you need quality garage doors Calgary can be a difficult market to navigate. However, the expert team at C Town Doors has the right set of people skills, technical expertise, and industry connections to find the perfect garage doors for you. Plus, with a two-year hassle-free labor guarantee, you benefit from peace of mind that only C Town Doors can provide.
Are you ready to enhance your home's curb appeal? Call us today, visit our Calgary garage doors showroom, or drop us a line here. Conveniently located in Calgary and we are open Monday-Sunday  24 Hours. If your home needs garage doors, get in touch with us today.