Smart homes are the wave of the future. More and more, people are integrating smart technology into their lives. Appliances are getting more intelligent as refrigerators start tracking contents, and smart stoves come with tablets connected to the internet. These advancement aren't just limited to the kitchen too. Garages and garage door security are improving with the adoption of these hi tech upgrades as well.
This is a great development, especially for home safety. The garage door is one of the most vulnerable parts of the Calgary home. Intruders can get into garage doors with as little as a clothes hanger and some ingenuity. So protecting your garage door is not only a concern for the safety of your property, but for your personal safety as well. 
Here are four of the biggest advancements for garage door safety that smart technologies are bringing.
Internet Connectivity Allows You to Keep Your Garage Door in Check at All Times
All these smart technologies have one thing in common: all of them connect to the internet using your home's wi-fi connection. This brings one significant advancement for the home. It means that you have access to information about your home through your devices at all times of the day, wherever you are.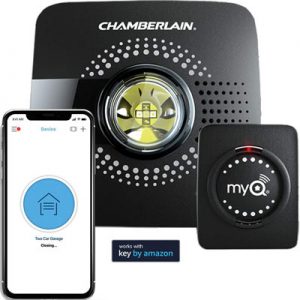 Garage door manufacturers like Chamberlain have created their MyQ line of smart garage door openers and accessories to do just that. These devices are new models of their already impressive garage openers as well as small accessory upgrades that are compatible with most garage door opener brands that bring them into the MyQ infrastructure.
Remote Garage Door Monitoring Lets You Keep Track of Your Garage Wherever in the World You Are
What this means is that with an internet integrated garage door security system, you can keep track of your garage door anywhere you have an internet connection. You'll get phone notifications whenever it's opened and closed while you're not home. This helps you keep track of any unauthorized openings of your garage door.
A smart garage door opener also lets you control the door's opening and closing remotely as well. You can also set open and close programs for your garage door as well, scheduling when they open and close for you when you need it.
Improved Lighting Systems Illuminate Your Driveway More Efficiently
Lights are always an important part for the front of your home. A well illuminated driveway and garage is one of the best ways to deter any would-be intruders and burglars. It signals to them that there are people in the home that may catch them if they're not careful. Most burglars will usually for the most vulnerable looking houses in the neighborhood, so dim or dark lights are much more preferred as marks.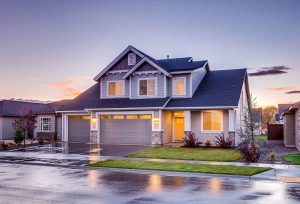 Modern lights can also be smart lights as well, and can be integrated into an app as well. Chamberlain's MyQ line of garage accessories also come with a line of floodlights to install above your garage door and inside your garage as well. These all also integrate into the MyQ app.
With the app, you can remotely toggle the lights above and around your garage door, turning them on and off at your leisure. You can also create schedules for the lights through an app. Setting up specific times for when your lights turn off in the morning and when they turn off in the night. This function is perfect for when you travel, as a set schedule of when your light turns on or off can be programmed can make it seem like your empty home is still occupied while you're out on vacation.  
Advanced Camera Technology Lets You Catch Intruders More Easily
A camera mounted by your garage is one of most foolproof ways of maintaining garage door security. Cameras not only deter any people who might want to steal from your home, but also provide you with video evidence when it catches someone in the act.
But far be it for your camera to be like those old cop shows where the picture quality is grainier than a VHS in the desert, modern home security cameras like the Nest Home Camera and Ring are all in full HD. You'll be able to see the burglar's features very clearly and provide law enforcement with a good description of the criminal.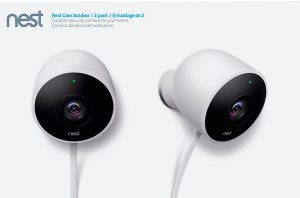 Plus, with the integration of these cameras into their associated smart device infrastructures, you can view these videos in real time. Storage solutions for data these days are also so large that you can store footage for much longer than before. The Nest Home even has facial recognition software for its more high end model that can alert you if strangers are coming up to your garage door. While Ring has built in speakers to their cameras that allow you to speak directly to any intruders, dissuading them from trespassing.
The Basics are still Important Though
Despite all these advantages brought about by the latest technology, carelessness is still your biggest enemy when you're keeping garage door security. So here are some tips that you might find useful to secure your garage door from intrusion:
Keep the garage closed as much as possible.

You don't want potential burglars scoping your things out for items to steal. Also, a garage door constantly left open is a signal that you're not particularly attentive.

Make sure every entrance to your garage is locked.

If you have a detached garage, make sure all the other entrances are locked as well. Fix any broken latches or locks if you notice anything.

Perform routine maintenance.

Inspect your garage door for any issues. Unbalanced doors are easier to break into. Check the rails for damage so you can take care of it before they fully break and require you to leave the garage door open for extended periods to fix.

Call a garage door repair and installation company.

When you do see any issues with your garage door, make sure to call a garage door specialist like our experts at C-Town. We'll perform any repairs or replacement you might need quickly and effectively. Call us at

905-532-9770 for a free consultation and estimate.