Pop quiz: Which is the most-used entryway in the house? If you said the front door, guess again. Because in homes with an attached garage the garage door is in fact the most popular way for homeowners to get into and out of their house. That speaks to the importance of having a garage door that echoes your tastes, dovetails with the rest of your home exterior and serves your needs without fail. But just how do you go about selecting Calgary garage doors that fulfill all those requirements and stand up to the local climate at the same time? To make things easier for you we've brought together the different kinds of garage doors and their relative strengths and weaknesses.
Read This Before Scheduling Garage Doors Installation
The front entry door tends to get the love but it's actually the garage door that gets most of the use these days. In fact, it's not unusual for homeowners to go a week or more using only the garage to enter and exit the house. In recognition of the leading role the garage door plays in how we interact with our homes these days we thought it appropriate to discuss the different types of garage doors. We'll look at the pros and cons of each style and whether they're a good match for Calgary.
Sectional Overhead Doors

These are far and away the most popular type of Calgary garage doors and have been for the better part of a century. It's difficult to explain exactly why that is because, after all, the other doors on our list have plenty going for them as well. Perhaps it's just because they were the first on the residential scene once our culture transformed from a walking one to a driving one. Or maybe folks just like to watch them go up and down. Here are the relative pros and cons of sectional overhead garage doors:
Pros
● They're available in a wide variety of styles.
● They're available in an equally dizzying variety of materials.
● They're a known quantity since so many homes have them.
● It's easy to connect them to a mobile app.
● The modern overhead door as relatively low-maintenance.
● It's easy to find someone to repair them.
Cons
● Everybody has them.
● They use torsion or extension springs which can be very dangerous.
● If the auto-reverse mechanism fails someone could get hurt.
● Wooden overhead doors need to be painted every couple of years.
It's actually pretty easy to see why sectional overhead doors lead the installation parade in Calgary. You have a ton of materials to choose from including wood, steel, aluminum, fiberglass, glass, composite and more. There are lots of companies that install and repair them. And it's pretty easy to connect them to a mobile app so you can control them from anywhere on earth. They'll also open easily even if a foot of snow has fallen. Making them a good match for the Calgary weather.
Carriage House Garage Doors
Carriage house doors are the original garage doors. They only began to fall out of favor during the mid-20th century when the freestanding carriage house gave way to the integrated garage. In colonial times most homes whose owners could afford a horse and carriage owned large tracts of land. There was no particular concern about how much space a carriage house door took up when it swung open. Today however, properties are smaller and space harder to come by. So carriage house doors have become a 2nd tier choice.
Pros
● From a style perspective they endow a home with substantial curb appeal.
● There is no need to give over a portion of your garage to tracks and such.
● They're available in a surprising number of styles.
● They are typically very sturdy and will withstand the test of time.
Cons
● As we mentioned you need a lot of space in front of the garage to open the doors.
● Trying to get out of your garage after a snow storm is going to require some work.
● While they last a good long time they typically need a fair amount of maintenance.
● Opening the doors on hinges like this creates a safety issue. Kids in front of the doors when they open could get hurt.
Carriage house doors remain the preferred choice of a small percentage of homeowners. They're valued primarily for the undeniable curb appeal they provide a house. The fact that they are not exactly snow-friendly, however, means that from a practical perspective they're not ideal Calgary garage doors.
Canopy Garage Doors

Canopy garage doors – often referred to as "tilt-up garage doors" – don't have any of the horizontal sections of a standard overhead door. Instead, they're a single slab that tilts backward and slides up into the space above your car. Like a sectional door, except they move as one piece. You don't see a lot of canopy garage doors in Calgary and it's difficult to say exactly why. But maybe by listing the relative pros and cons we can gain some insight.
Pros
● You can have a "pilot door" built into a canopy door that allows you to access the garage without lifting the door. This can help keep energy costs down which is important in a place like Calgary.
● No sections means fewer moving parts. Fewer moving parts means fewer things to go wrong.● They don't require as much space in front of the garage as carriage house doors.
● They open easier than carriage house doors if there's snow in front of them.
● Some folks consider them more elegant than sectional garage doors.
Cons
● You might still need to dig them out a bit if there's a lot of snow on the ground.
● Just as some people consider them elegant others consider them clumsy looking.
● Replacing sections is more expensive than replacing individual panels on a sectional door.
● They're a bit unwieldy when the wind is really kicking things up.
Because canopy tilt-up doors are not great in the wind and might still have to be shoveled out a bit before they will open they're not an ideal type of garage door for Calgary. Some homeowners, enamored of the curb appeal they bring, will overlook practical shortcomings and order them anyway. To each their own.
Roll-up Garage Doors

There are millions of rollup doors in use as you read this. Except not on homes. Where you'll see most of them is on warehouses, factories and other industrial concerns. Still, for garages in the city that have less space above the car than those in the suburbs a rollup door can be a smart space saving solution.
Pros
● They don't require tracks or extension springs.
● They're great for garages with low ceilings.
● They're lighter and often open faster than other doors.
● They really secure your garage against breakins.
● They'll open even after a heavy snow.
Cons
● Most people consider them pretty unattractive.
● They're not available in a lot of different styles or materials.
● They're typically made of metal and rust pretty quickly.
● They can be noisy.
When you think about a garage door for your Calgary home chances are you don't think about rollup doors. But maybe you should. Especially if you live in the city itself and have a smaller garage with a low ceiling. Sure, you'll probably need to deal with corrosion in time. But because the environment here is normally pretty dry that shouldn't be a pressing issue. The biggest reason most people take a pass on these doors is because of the look.
Side Sliding Garage Doors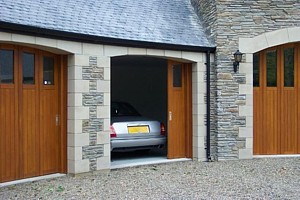 Another option for garages that don't have a lot of head room is the side sliding door. These are a type of sectional door whose sections run vertically rather than horizontally. The tracks that guide the door move off to the side and back, rather than up and back as on a traditional sectional overhead door. Not many garage doors in Calgary are side sliding doors. But there are some out there.
Pros
● Your garage door will be the talk of the neighborhood, that's for sure.
● This type of door won't present a problem when the wind is howling.
● They won't bother anyone in a room above the garage.
● The panel construction means they're easy to repair.
Cons
● Because this is a specialty type of door they tend to be pretty expensive.
● The bottom track can be negatively affected by ice, snow and freezing temperatures.
● Repairs can also be expensive, since not all garage doors installation companies in town will work with them.
In a nutshell, side sliding garage doors are not a great match for Calgary homes primarily because the track can be disabled by extreme cold, snow and ice. All things we have in spades in Alberta.
The Bottom Line
Overhead sectional doors take the cake for being the best kind of Calgary garage doors. Talk to the pros at C Town Doors today to determine which style is right for your home.