Winter is here. Flurries of snow cover the streets of Calgary, bringing with it freezing winds and frigid nights. The winter can be a difficult time for the homeowner. It can be especially hard on your garage door as well.  Severely cold temperatures can ruin your garage door in just a few years. So taking care of it is a must. Maintaining your garage door during the winter can be tricky though, so C-Town Doors is here to answer a few questions you might have about your garage door during the winter.
Which parts of my garage door should I check before winter?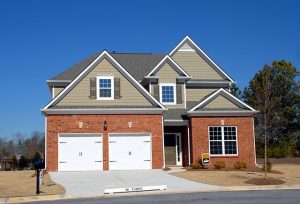 A quick checklist that you should have for your garage inspection before winter comes is the following:
Your Garage Door Panels

– Check your garage door panels for warping, flaked paint or dents. It's best to get these fixed right away. Call your garage door company or try to fix it yourself.

Weatherstripping

– Checking how weatherproof your garage is the most important step. Letting frigid cold winter air in will run up your gas bills, plus might damage any equipment you have stored inside your garage. This doesn't just go for your garage door, but even for your windows and doors if your garage is separate. Replacing weatherstripping is a cheap fix too.

Rails, chains, and springs

– checking these parts of the garage door is probably the most important thing you should do in the winter. Check every moving part of your garage. These are typically made of metal, and metal can expand and contract as temperatures fluctuate. 

Insulation

– Insulation helps keep your garage cooler in the summertime and warmer in the winter. But as years go on, insulation can begin to deteriorate. Sometimes this might even be caused by insects living in your garage door. Bad insulation will let cold air into your garage and make warm air dissipate faster from your garage, wasting you a lot in your energy bill in the long term if you have a heated garage.
What can I do to protect my garage door during the winter?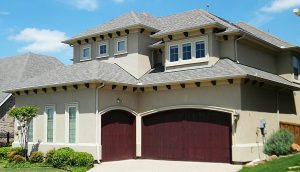 Protecting your garage door for the winter requires preparation earlier in the year. Some of these things need to be done without the threat of heavy snow. You don't have to do all of these but it's best if you do them once you've noticed what's missing in your garage. The things you can do to prepare your garage before winter are:
Install new insulation or replace the old one

– Depending on the type of insulation you choose to use, it might take some curing time for the material to set. So it's important that you do this sooner rather than later.

Apply new weatherstripping

– You can purchase weatherstripping for your garage door for fairly cheap at most major hardware stores. Replacing the old cracked material with new ones is important for sealing your garage door from the outside elements. But remember that your garage door might not be the only area that needs it. Your windows and side doors might also be seeping cold air in; so applying weather-proofing there is also advisable.

Apply a new coat of paint

– A new coat of paint can protect your garage door panels from the snow and ice by providing an extra layer between the material and the outside world. Choose a good weather proof paint for your garage door; making sure to apply some primer first. You can also take this chance to add some extra personality to your garage door too.

Lubricate your garage's moving parts

– lubricating all the rails, chains and springs of your garage door is important to their continued ease of use. Expanding metal during the winter can make the mechanisms of your garage door stiffer. Using a silicone based lubricant is most effective as oil based lubricants can gum up in the cold.

Replace damaged springs

 – the springs are particularly dangerous if left damaged during the winter. There's a possibility that the springs holding your garage door shut might snap in the cold, leading to potential injury. Call your garage door specialist to replace them if you see them broken.
What to do to stop my garage door from freezing?
The easiest way to stop your garage door from freezing over is to keep the area around your garage door clear of snow. Winter temperatures may be cold but they can fluctuate between below freezing and just about zero degrees at times. 
This means any snow on your driveway, especially the section by your garage door where it's a little warmer, will melt on the warmer days. When freezing temperatures come back, this melted snow will turn back into ice. This ice is liable to freeze over your garage door and get it stuck fast to the ground. 
Besides this, your driveway freezing over is also dangerous for you and your kids. Your entire driveway can become a big slipping hazard, leading to possible injuries. To stop this from happening, make sure your driveway is clear of snow as much as possible. Make sure to not let the snow pile up either, because the thicker the snow, the more compressed the snow at ground level will be, and this can cause slippery spots as well.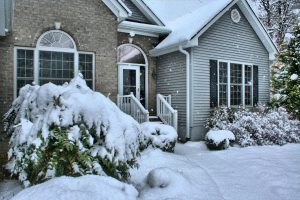 What happens when my garage door does get stuck during the winter?
In the event that your garage door gets stuck in the winter however, do not immediately try to use your garage door opener to force it open, you might end up damaging the mechanism of your garage door opener. 
Instead, inspect your garage door first, make sure it's actually the garage door getting frozen over that's the reason it can't open and not something wrong with your rails or opener. Once you've determined that, it's time for you to remove the ice that's frozen your garage door stuck to the ground.
How do I remove ice from my garage door?
The answer to this is "very carefully." To prevent damage to your weatherstripping and garage door itself, use hot water a heat gun to melt the ice around the garage door slowly. Then pick away at it with a blunt object like a rubber mallet. 
This can be a time consuming process, but if you want to keep from damaging your garage door's paint and your weather stripping, it's worth the labor.
Once you're finally done with the work, make sure you dry out the entire length of the garage door. This step is crucial. If you don't properly dry it out, then that hour or two your spent thawing the ice out will be completely wasted as it begins to freeze once again.
Who should I call if my garage door breaks down in the winter?
If you find yourself in the unfortunate situation of having your garage door break down during the winter, give C-Town doors a call immediately at 403-668-6686 and schedule a repair or replacement with us. We'll offer a free assessment and estimate on your repairs! We service all across Calgary so give us a call.