Everyone deserves a gorgeous place to call home.
We might not talk about our garage doors the way we discuss our furniture or interior design, but they are an important element to the curb appeal for a house. A stylish garage door can make your home stand out from the rest.
But when it comes to Calgary garage doors, the design is only the beginning. With rapidly changing weather patterns and harsh winters, Calgary garage doors need to be as durable as they are attractive.
Here are some popular and on-trend designs that can improve the appearance of your home, all without sacrificing the quality materials you'll need to survive the harsh Canadian winters:
The Two Primary Garage Types
Before getting started on the specific designs available, you should understand that your home has a garage that falls into one of two categories: detached and attached.
Detached garages are separate buildings, whereas attached garages are, as the name suggests, attached to the main home. Detached garages are harder to come by but still exist, especially in larger properties.
It is important to understand that there are ultimately thousands of options available in terms of materials, colours and specific designs for Calgary garage doors. No matter which garage door option you choose, you can easily find the perfect design for your home.
Carriage-Style Garage Doors
Once upon a time, carriage doors were a staple for farms and large properties. As carriages were replaced by cars and nearly every household had a personal vehicle, garages evolved to cater to modern needs.
But that doesn't mean carriage-style doors don't have a place in the contemporary world. If you want to give your home an old-fashioned flair, this is a style that you and your family will never grow tired of.
Although this timeless and understated look works for virtually every home, it is especially stunning for detached garages.
Frosted Glass Garage Doors

Glass offers a sleek and modern look to any home, but many families feel uncomfortable giving up some of their privacy. In all honesty, most of us worry more about the exterior of our garages than the interior. If you don't want your nosy neighbours peeking in and seeing the mess of Christmas decorations and old hardware supplies in your garage, frosted glass is the perfect option.
This material offers everything that's appealing about glass garage doors— the sleek appearance, the tendency to stand out among the primarily wooden doors of your neighbours– while still maintaining a sense of privacy.
You might be worried that frosted glass is the wrong choice for Calgary garage doors, given the extreme Alberta weather. We can assure you that at C Town Doors, we install only the most durable glass doors, ensuring that your garage is safe from the elements, even in the winter.
Lakeside Appeal
Whether you have a cottage you can slip away to during the summer months, a lakeshore property, or just love a rustic appearance, there are plenty of garage door options available to you.
Rustic, two-tone wooden doors can make you feel as though you're coming home for a dip in the lake or tanning on the dock, even if you're trapped in downtown Calgary.
Accented Colour Garage Doors

If you want a garage door that's fun and reflects your own bubbly personality, a pop of colour is the way to go.
Bright colours might not be right for every family, but if you simply get too bored with browns and whites, trying something bold like crimson or understated and sweet like pastel pink could lead to an eye-popping exterior that will leave all of your neighbours envious.
Sleek and Steel Garage Doors
You might be worried that steel doors will leave your home looking like a villain's fortress from a spy movie. The reality is, many steel door styles are sleek, shiny and have a cool and futuristic appeal.
However, steel doors can also be traditional in design and colour, making them a versatile option that offers something for any household.
Steel doors are particularly great options for Calgary garage doors, given their durability. Steel doors are also typically easy to paint, meaning you don't have to commit to one style. If you feel like changing things up a couple of years down the road, steel doors give you the perfect opportunity to easily experiment.
Spanish Style Garage Doors

If you're looking to get out of Calgary for a while, but can't fit a vacation into your busy schedule, Spanish-style doors might be the perfect solution.
With this classic style, you can feel as though you're vacationing in Barcelona or Southern California every time you pull into your driveway. A Spanish-style garage door looks best with vibrant flowers surrounding it, so this is a particularly lovely design option if you're an avid green thumb with room for a garden in your front yard.
Contrast
Nothing draws in the eye quite like contrast.
Plenty of homes are made so that everything "goes", from brickwork to accented features like shudders and mailboxes. In fact, there are plenty of suburbs in Calgary where you can find blocks upon blocks of identical homes.
Whether you're trying to sell a house or just fall in love with yours again, there's nothing wrong with aiming to turn heads. Whether you aim for a black door against a gray stone exterior, a funky, multi-coloured design or a bright shade for your frosted glass door, there is so much you can do with the concept of contrast.
Iron-Wrung Windows Garage Doors
If you want a look to add a sense of sophistication to your front yard, iron-wrung windows are a great design. Beautiful and elegant, these tiny details speak volumes.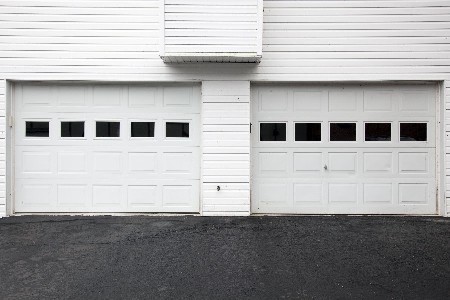 Additionally, iron-wrung windows serve the same purpose of frosted glass in the sense that they allow natural light into your garage, while keeping out unwanted eyes.
Roll-Up Garage Doors
Although they might have a reputation for being somewhat industrial in appearance, roll-up garage doors can be non-conventional and visually interesting solutions if you're bored of your current garage doors.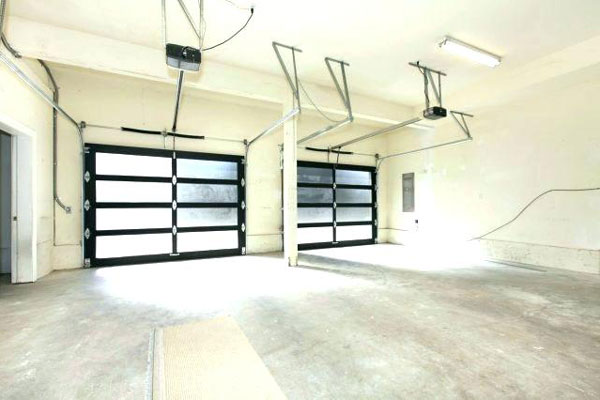 A roll-up garage door is a perfect option because it is compatible with most garage door materials. If you like the urban, lofty appeal of a metal roll-up door that's great, but if you want something a little traditional, that's available as well.
Wood-Stain Doors
Wood might be the most popular garage door option for Calgary garage doors, but that does not mean it has to be boring.
With the right stain, a wood garage door can be tasteful, attractive and most importantly, perfectly tailored to your individual home. If you have a primarily white or light-shaded home, you might benefit from a vibrant pop of colour with a deep red or black, whereas homes with visible brickwork often benefit from a brown stain.
Choosing The Right Design
Sometimes, it feels as though there are too many options for your garage door. How can you possibly be expected to settle with just one design?
The first thing to consider is your own home and family. Whereas some people love the fact that antique-style carriage doors or pastel-shaded frosted glass adds a splash of personality to a home, other families are much more comfortable with subdued and understated designs.
If you know you would benefit from new garage doors, but don't have a specific vision in mind, you might need to reach out to the right contractors to help you review your options and find the perfect design for your home.
Getting Started On Your Dream Design
There's no better time than the present to get started on your dream garage.
If you want to balance high-quality, durable doors and a gorgeous, stylish appearance, C Town Doors is the best option in Calgary. From the beginning of the design process to the final installations, we will be here to provide exceptional customer service.
We offer custom made garage doors &  Garage door repair services in Calgary and more. Whether you have a distinct vision for your dream garage, or would like an expert to help you get started, your curb appeal dreams are just a phone call away.